Which All-Natural Dental Products Are Best?
Posted by Taylor Schachter on Oct 8 2019, 08:44 AM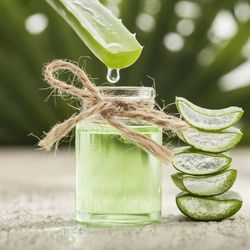 Between our polluted waterways, global warming and the rise of chemically enhanced products, there has been a greater push in recent years for all-natural products in every segment of the marketplace. From cleaning products to sustainable fibers, eco-friendly consumer products are everywhere - including in the oral hygiene aisle. But just because something is all natural, does that mean it's any better than its "less natural" counterparts? Here's a look at a few all-natural products and an honest review about what's worth the investment and what isn't.
Aloe
You've probably heard of aloe vera, the miraculous cactus that soothes minor burns. Recently, aloe-based oral health products have started popping up on the market, claiming to be as effective as products containing more traditional dental ingredients, such as chlorhexidine mouthwashes. But are these aloe products really any better?
According to a recent study, aloe-based mouthwashes are just as effective as chlorhexidine. So if you want to try an aloe-based product, there's certainly no harm in it. Just make sure it carries the American Dental Association seal of approval, or check with Dr. Abelar if you're unsure.
Charcoal
Charcoal-based products have become a trend in recent years, but not because they're good for you. In fact, charcoal-based toothpaste is so abrasive it can permanently damage tooth enamel. If you're interested in a more natural toothpaste than the traditional pastes you see at the supermarket, we suggest going for a baking soda- or aloe-based paste that is gentle on the teeth and gums.
Bamboo
Bamboo-bristle brushes are becoming a new trend because many of them are 100 percent eco-friendly and biodegradable. But not all brushes are created equal. Some have very hard bristles that can scratch the enamel, but, according to reviews by Her.ie, the bristles on the Humble Brush are softer than most traditional bamboo brushes and won't harm your tooth enamel.
Humble also makes plastic-free dental floss that is biodegradable.
Toothpaste and Mouthwash Tablets
Tablets have become another trend that helps the planet by leaving behind nothing but a recyclable glass jar - a far cry from those sticky, gloppy tubes of toothpaste we're used to. The tablets work just as well as regular toothpaste but cost a bit more than a traditional tube, so be sure to do the math before investing.
If you're interested in learning more about which products are best for your teeth, speak to Dr. Abelar at your next appointment, or call 858-256-4088.