The Hidden Dangers of Toothpicks
Posted by AESTHETIC DENTISTRY on Dec 14 2021, 11:06 PM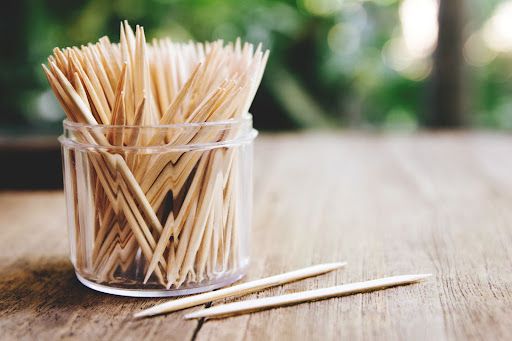 It happens to all of us. You're eating something delicious, minding your own business, and just like that you've got a little food stuck between your teeth. But how do you get that food out and restore that beautiful smile? For many of us, the answer to that question is toothpicks. But did you know that toothpicks can actually be really bad for you? Here are some ways in which these little wooden sticks can be a big pain.
Bleeding gums
If you're not careful with wooden toothpicks, they can be very dangerous to your gums. In fact they can cut the gums, leaving not just a painful wound, but an entry point to your gums and bloodstream for harmful oral bacteria!
Root Damage
They may seem harmless, but did you know that those tiny wooden toothpicks can cause root damage to your teeth and gums? It's true.  Using toothpicks often can damage tooth roots, and can potentially break in your gums even if you only use them one time, also causing tooth root damage.
Plastic Toothpicks
Plastic toothpicks are a popular way to clean teeth. Also known as flossers, they may have a floss pick on the other end. These are safer in that they will not break off in your gums, however their sharp edges may still damage tooth roots, so its generally better to avoid using these as well.
What To Do
If you do find food stuck between your teeth, the first thing you should reach for is your dental floss. Dental floss is perfect for cleaning between the teeth, and when used clears away 30 percent of the debris on the surface of your teeth.
Dental floss and brushing are the safest methods for dislodging stuck food from between the teeth. You can even use a mouthwash to help loosen the debris first. If that doesn't work, the floss should do the trick. But don't just floss when you've got food between your teeth! Make sure you are flossing daily, at least once a day, preferably at your evening brushing!
To schedule an appointment with Dr. Abelar, please call the office today!