Study Links Periodontal Disease to Cardiovascular Health
Posted by Taylor Schachter on Oct 22 2019, 01:31 PM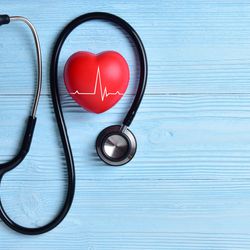 A recent study by researchers at the Imam Muhammad Ibn Saud Islamic University in Riyadh, Saudi Arabia, has yielded some troubling findings. The study was presented at the American College of Cardiology in Dubai and claims that the fewer teeth you have, the higher your risk for cardiovascular disease (heart disease).
These findings echo sentiments of prior studies that have found that missing teeth can be dangerous to your health. Though they did not study why this link exists in this particular study, researchers believe that the reason for this connection is that lost teeth may be due to other underlying conditions that affect cardiovascular health.
One such condition is periodontal disease. Presenting itself most frequently as inflammation of the gums, if left untreated, periodontal disease can cause many more problems, including tooth and jaw bone loss and deterioration. Patients with periodontal disease (or periodontitis) are vulnerable to allowing bacteria into the bloodstream, which has been found to cause or worsen heart disease. Thus, periodontitis could be responsible for both the tooth loss and the heart condition.
Another possible link? Smoking. Smoking increases your risk of both tooth loss and cardiovascular disease, so it is imperative that you quit if you smoke. This can save not just your teeth, but your life.
How high is this risk? Well, according to the study of approximately 317,000 Americans aged 40 to 79, nearly 30 percent who had lost all of their teeth to periodontal disease also had heart problems. Only 7 percent of those who had all their adult teeth present had cardiovascular disease.
So, what can you do if you fall into this category? To be clear, just because you are missing teeth does not mean you will develop cardiovascular disease, nor does it mean if you already have cardiovascular disease you will lose all your teeth. However, knowing you are at an elevated risk for both means you should be diligent about your health. This means if you have cardiovascular disease you should follow up with your cardiologist regularly, and take excellent care of your oral health. On the other hand, if you are missing all of your teeth due to periodontal disease and smoking, follow up with your regular physician and get screened regularly for cardiovascular disease. You should also be following up with Dr. Abelar on a regular basis - even if you are missing all your teeth - to make sure your gums are healthy.
To schedule an appointment with Dr. Abelar, please call 858-523-1400.