Could Robots Replace Dentists?
Posted by AESTHETIC DENTISTRY on Sep 10 2014, 07:31 AM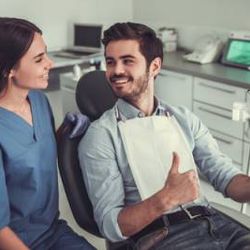 For some patients in the United States, getting to a dentist poses a real challenge. In fact, according to Pew Charitable Trusts, nearly 50 million Americans have limited access to a dentist due to living in an area with a dentist shortage. So, what can be done to help people get the oral health care they need until there are more dentists to serve these rural areas? A clinic in Xian, Shaanxi, China, may have a solution.
According to an article in Science and Technology Daily, the clinic has performed the first robot-led dental implant surgery in the world, and that technology is on its way to America.
"The FDA approved the use of robots for oral surgery in the United States back in March of 2017," says Dr. Martin Abelar, a dentist in San Diego, California. "These robots will not only work to address the dentist shortage, but they can also help with procedures that require precision that may be difficult for even the most skilled practitioner, such as with implant surgery."
Placing a dental implant incorrectly - even just slightly - can cause implant failure.
"With implant failure, you would then need to attempt the implant again, if possible," Abelar says. "In some cases, it may not be possible, and the patient will lose the opportunity for an implant in that area."
Though the robot used in the implant surgery in China performed the procedure entirely by itself, there was a team of licensed medical professionals in the room, just to be safe.
"No robot would be performing surgery unattended," Abelar says. "But think of the potential of having multiple robots performing multiple surgeries while the dentist oversees all of them. It will be like having 10 arms. One dentist will be able to do two or more procedures at once."