White, Bright Teeth
Posted by Aesthetic Dentistry on Nov 14 2014, 06:01 AM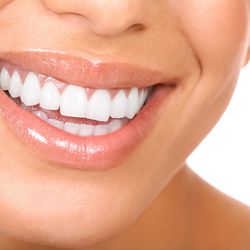 Cosmetic dentistry can fix a lot of issues my patients can't help such as gaps in teeth or misshapen teeth. But, there are a lot of habits and behaviors people have that darken or stain their teeth. In time, this can be as much a reason to have some cosmetic procedures performed.
One of the biggest cosmetic complaints I receive is about yellow teeth. Some dietary choices and personal choices can result in teeth losing their white luster. For instance, coffee and tea drinkers can experience a yellowing of their teeth due from repeated ingestion of those dark liquids. The same can be true of red wine.
Smoking can also cause a yellowing and darkening of the teeth due to the exposure to nicotine. The same is true if you chew tobacco. Tobacco and coffee/tea/red wine stains can affect your tooth's hard enamel and in many cases can be treated with whitening systems. However, it is common for a discussion about simple tooth whitening to reveal the patient's desire for a brilliant and perfect white smile. In these cases, we discuss options for cosmetic dentistry.
Sometimes your natural teeth color is just not so bright. It is possible to have a brownish or grayish natural tint to your teeth due to genetics, diet, medications or environmental elements in your formative years. If your teeth have a more dull color to them to begin with, you may not notice the slow darkening caused by coffee, tea and cigarettes. To many the brightness of a smile seems relative but when you compare with bright white smiles, people often notice a difference and that starts a conversation about cosmetic dental procedures.
If you have any question about cosmetic dentistry, please let me know. My team and I will be glad to answer your questions and give you the facts.