What Are Overdentures?
Posted by AESTHETIC DENTISTRY on Mar 22 2019, 04:17 AM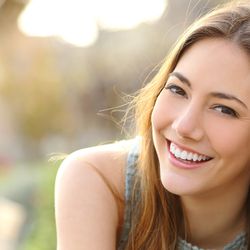 If you are missing teeth and are not a good candidate for dental implants due to bone deterioration or loss, you may be considering getting dentures. But if dentures don't seem like your cup of tea, there is another option that bridges the gap between dentures and dental implants: overdentures. Find out what these clever prosthetics are and who is a good candidate for them.
What Are Dentures?
Dentures are prosthetic teeth set in a natural-looking material that mimics the gums. Dentures are custom made to each individual patient to look like his or her own set of natural teeth, so that nobody can tell they are not "real" teeth. Dentures sit atop the natural gums and secure to them with adhesives like denture paste. These adhesives are removable, so the patient can take out his or her dentures for cleaning each night.
Dentures can be cleaned by soaking in a denture rinse solution, and they must be brushed using a standard toothbrush and denture cleaning paste, just as you would natural teeth.
What Are Overdentures?
You may have never heard the term overdentures before today - even though these innovative prosthodontics aren't new, they're not well known to most consumers. An overdenture is similar to a regular denture in that it looks like natural, healthy teeth and gums. But while dentures simply sit upon the existing gums, overdentures actually hook to the jaw bone securely, eliminating the need for adhesives or denture creams. Plus, because overdentures are secured to the jaw bone with hooks, they stay in place and don't move around when you talk or chew.
That being said, overdentures can easily be removed when you need them out, because they are only temporarily anchored to the hooks. In some ways this makes them the best of both worlds when it comes to dentures and implants: permanent enough to stay in place, but temporary enough to remove to clean!
If you are on the fence about what type of prosthodontic is right for you, speak to Dr. Abelar today about your options. He can be reached at (858) 866-9692.