Implant Technology
Posted by AESTHETIC DENTISTRY on Feb 21 2017, 09:54 AM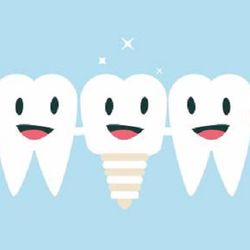 One of the many things that sets Dr. Abelar apart from other dentists is his investment in technology that allows for the highest level of quality care for his patients. CBCT, cone beam computerized tomography, is a medical imaging device that is designed specifically for the head and jaw and uses x-rays that form the shape of a cone to get a 360-degree view of the patient's mouth.
This advanced technology only takes between five and 40 seconds to take 150 to 599 images. The machine rotates 360 degrees around the head to capture hundreds of images from many angles that are then combined digitally to form detailed 3-D images.

One of the biggest ways this technology has taken Dr. Abelar's quality of care to even higher levels than before is in implant procedures. These 3D x-rays help plan the implant process from beginning to end. With the help of these scans, not only is optimal placement determined, but Dr. Abelar can determine if the jaw bone is structurally sound enough to receive the implants successfully or if work needs to be done to prepare the bone.
In the past, dentists used 2D x-rays and took manual measurements to approximate placement of the implant. These x-rays had a distortion rate of 40% which meant the margin of error was high of placing the implant incorrectly. Sadly, many practices still use this outdated technology especially when their emphasis is on profits and not the quality of care.
At Dr. Abelar's office, high quality is at the forefront of everything that goes on here. Our investment in technology has given way to the highest quality of care possible. Thanks to CBCT imaging, the location, aesthetic and even affect on the bite is planned so specifically before the procedure that a plastic piece is ready at the time of the appointment with a hole drilled into it showing exactly where the implant should be placed.
Other ways CBCT can be used in dentistry include planning orthodontic work, jaw surgery, treatment of TMJ disorders, impacted teeth, root canals and even sleep apnea. To schedule an appointment or for more information on how our investment in technology is an investment in our patients call 858-866-9692.