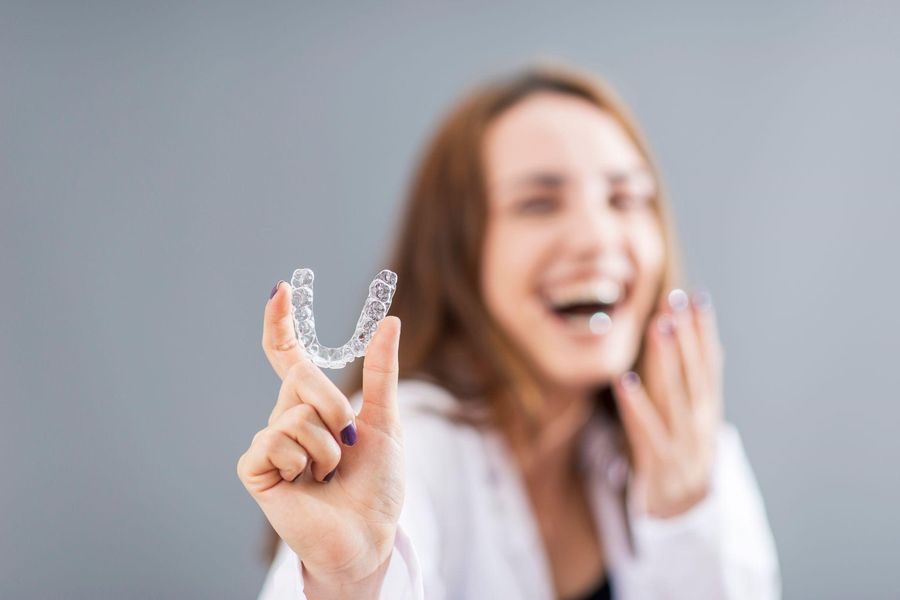 Are your teeth not as straight or evenly spaced as you'd like them, but you aren't ready or willing to commit to the process of wire and bracket braces? After all, traditional wire and bracket braces are a lot of work – from cleaning to maintenance, they can be difficult to manage with a full schedule.
But if you're looking for a solution to a less than satisfying smile without the wires and brackets, Invisalign® clear aligners may be for you!
WHAT IS INVISALIGN?
You've probably heard of Invisalign® and its imitators before. Invisalign® is a series of clear aligners that fit comfortably over the teeth and straighten the smile gradually, without the use of wire and bracket braces. Invisalign® aligners can be removed to eat and drink, and are simple to clean and reinstall. Many wearers find them more comfortable than traditional wire and bracket braces, too!
WHAT ARE THE BENEFITS OF INVISALIGN?
One of the best things about Invisalign® clear aligners is that they are clear and fit over the teeth, so they are virtually invisible, and thus won't make you look 'like a kid' for wearing them in the boardroom. For this reason, many adults looking to straighten their teeth seek out Invisalign® by name. Best of all, Invisalign® is still just as effective as wire and bracket braces, so you don't sacrifice anything for style!
HOW MUCH IS INVISALIGN?
Individual pricing on Invisalign® clear aligners depends on the length and severity of treatment, as more aligners may be needed for certain patients. For your own treatment plan and a quote, please schedule a consultation with Dr. Abelar.
CAN I GET INVISALIGN? 
Just like any product, Invisalign® isn't for everyone, but an evaluation by Dr. Abelar can determine if you are a good candidate for Invisalign® clear aligners. Factors to consider when considering Invisalign® include your age, the severity of the work your aligners need to correct, and your budget.
NEXT STEPS
Are you interested in learning more about Invisalign® and what this amazing product can do for you and your smile? Please contact the office today and schedule a consultation with Dr. Abelar to discuss your options.
Related posts